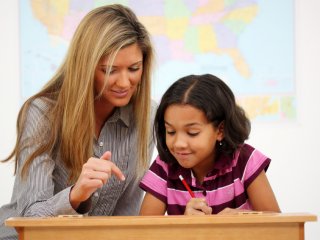 Course Type:
Instructor Led - 4 Weeks Long
Description
Objectives
Outline
Materials
System Requirements
Children with speech, language, or listening problems can look forward to less frustration, self-doubt, and misplaced blame for their limitations if they are properly diagnosed and treated and if their family is informed and supportive.  If you suspect or have been told that your child has as a speech, language, or listening problem, our course will give you a deeper understanding of the diagnoses and how to offer help for your child.  Armed with knowledge, you are in a better position to help make your child's life more fulfilling and far less challenging.
* You have 4 weeks to complete this course from date of your enrollment.
** Course Subject to Change.
After completing this course, you should be able to:
Define the communication-learning process
Recall the symptoms of and typical interventions for most common language problems
Recognize auditory processing disorders and the solutions
Identify the cause of delayed development and various interventions
Childhood Language Development Module 1
Learning to Communicate and Speech Problems
Children start on the road to successful communication as soon as they are born, but progress at different rates.  Module one will look at the communication-learning process and what we can do to help children learn how to communicate.  Module one will examine the most common type of speech and voice problems with an end goal of gaining a greater understanding of your child and their individual needs.
What is Speech, Language, and Listening
How Do Children Learn to Communicate
Understanding Speech Problems
Stuttering and Pronunciation Problems
Common Voice Problems
Childhood Language Development Module 2
Understanding Language Problems
Module two will discuss the symptoms of and typical intervention for the most common language problems.  We will look at how individual children are affected differently and what parents can do to help.  Language problems are not at easily treated and some children will just not ever be great at conversation.  However, module two will look at what improvements can be made with the right help.
Toddlers and Preschoolers with Delayed Speech or Language
Vocabulary Problems
Morphological and Syntax Problems
Word Retrieval Problem
Social Language and Playing
Childhood Language Development Module 3
Understanding Listening Problems
A listening problem can have an impact on receptive language.  In module three, we will look at the challenges faced by children with common listening problems.  We review auditory processing disorders, and look at what parents can do to help children cope at home and in school. 
Auditory Processing Problem
The Effects of a Language Processing Problem
An Auditory Memory Problem
Receptive Language Comprehension
Therapy and Home Help
Childhood Language Development Module 4
Causes of Delayed Development and Therapy That Works
There isn't a "textbook" profile of what causes delays in speech, language, and listening developments.  Each child brings a set of special conditions that need addressed.  Module four will look at many different causes of delayed development and will examine a variety of therapies that work for each.  In this module, we will also look at how to support and encourage your child's language development at home, in school, and in other environments.
Abuse, Neglect and Congenital Conditions
Cognitive Disabilities Neurobiological Disorders
Autism, Social Behaviors, Cerebral Palsy
Inclusion
Therapies That Work
Ed4Career is committed to being both environmentally conscious and making it easier for you to study! We're making your education mobile! All of our textbooks are now provided as eTextbooks. You can access them on your laptop, tablet, or mobile device and can study anytime, anywhere.
The move away from physical books to eTextbooks means you get the latest, most up-to-date version available. This also makes your training more accessible, so you can study anywhere you have your phone or tablet. The best part is that all materials are included in your training cost so there are NO extra fees for books!
Internet Connection
Broadband or High-Speed - DSL, Cable, and Wireless Connections
*Dial-Up internet connections will result in a diminished online experience. Classroom pages may load slowly and viewing large audio and video files may not be possible.
Hardware Requirements
Processor - 2GHz Processor or Higher
Memory - 1 GB RAM Minimum Recommended
PC Software Requirements
Operating Systems - Windows 7 or higher
Microsoft Office 2013 or higher. Also, you could use a general Word Processing application to save and open Microsoft Office formats (.doc, .docx, .xls, .xlsx, .ppt, .pptx)
Internet Browsers - Google Chrome is highly recommended


Cookies MUST be enabled
Pop-ups MUST be allowed (Pop-up Blocker disabled)

The Kindle Reader App or VitalSource Bookshelf App are needed for many of our courses (No special equipment needed. This can be downloaded for FREE onto your computer.)
PowerPoint Viewer (if you do not have PowerPoint)
QuickTime, Windows Media Player &/or Real Player
MAC Software Requirements
Operating Systems - Mac OS x 10 or higher with Windows
Mac office programs or a Word Processing application to save and open Microsoft Office formats (.doc, .docx, .xls, .xlsx, .ppt, .pptx)
Internet Browsers- Google Chrome is highly recommended


Cookies MUST be enabled
Pop-ups MUST be allowed (Pop-up Blocker disabled)

The Kindle Reader App or VitalSource Bookshelf App are needed for many of our courses (No special equipment needed. This can be downloaded for FREE onto your computer.)
PowerPoint Viewer (if you do not have PowerPoint)
Adobe PDF Reader
Apple QuickTime Media Player